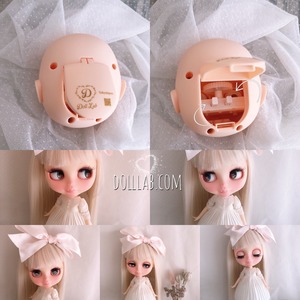 Eve doll(イヴ) 白姫.カスタムタイプ EVE002
◎白姫 カスタム専用タイプ

1.Wig size :10icnh ※頭部と後頭部に粘着マジックテープテープを貼って頂きウィッグを2.付けます。粘着マジックテープ(100均などで販売しております。)
3・eye size:14mm 目のギミックスロットは2種です。
4.対応Body size: アゾン インターナショナル様の 
ピュアニーモS,XS (ボディの首がボールネック挿入に対応可能なタイプ)
bodyの首元をドライヤーで30秒ほど温め、ボールネックに挿入します。
ボディを外すときも同様にドライヤ温めして引き抜いてください。

(付属するもの)
・メイク無し頭部(アイギミック含む) マット白肌
(ネジ付き)
※ご注意:ご注文頂いてからドールのセッティングを行いますので
 発送まで3~4日程度をお時間を頂きます。
-------------------------------------------------------
(*) Snow skin princess(Non-Limited type, for customization)

Doll head (whitened skin)
A doll head exclusive for customization
-------------------------------------------------
Size:30cm tall and more or less the same as Blythe.
Since the body size is similar to Blythe's,
Wig size :10icnh
eyetip size:14mm
body azone international Pure neemo XS or S
Wigs and eyes could be shared and interchanged.
-------------------------------------------------
I love custom dolls.

You may pick up the challenges of putting on various mark ups using colors pencils and pastel,
Lengthening the doll's eyelashes, sharpening her face using knives and changing her hair style.
So as to design a fancy world freely.

Yet, I am actually clumsy…
I hurt myself whenever I customize the dolls and one day my little daughter came to me and said,

"Poor mommy, you got wounds all over your hands all the time,
Let me help you to make the dolls!"

So, I just thought,
It would be great if small kids can also enjoy making, customizing their dolls in a gentle manner without getting hurt.

The gentle manner is the origin of this Eve doll indeed.

Eve is a custom doll girl.
With a pair of spectacular eyes and fabulous lips
Her hair style and her make-up
Along with her outfit can all be altered. You can create your own personalized "custom doll Eve".
*Tax included.
*Additional shipping charges may apply, See detail..

About shipping fees
The shipping fee for this item varies by the shipping method.
Yamato Transport

Your delivery status can be checked online.

Shipping Fees are the same all over country inside Japan ¥1,500
*Japan domestic shipping fees for purchases over ¥6,000 will be free.